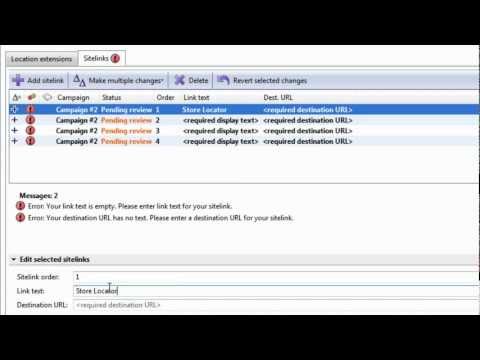 ---
In this blog post and video, I will show you how to set Ad Extensions within Adwords Editor.
What you will learn:
How to Create Location Extensions in Adwords Editor
There are essentially two ways to create location extensions.  1) Link to a Google Places account 2) Add locations manually.
To link to a Google Places account within Adwords Editor, go to the Campaigns tab and select "Location Extensions".  Here you need to enter the email address associated with the Google Places account you want to link to.
To add a Location Extension manually in Adwords Editor, simply go to the Extensions tab and click "Add location extension."  After that, you can enter information about a business location.
How to bulk upload Location Extensions in Adwords Editor
If you have multiple locations, I suggest you create one complete location extension then copy/paste that information into Excel.  Then modify the column fields with Business name, address, city, state, zip and phone number accordingly.  Copy everything, go into Adwords Editor and select "Make Multiple Changes" > "Add/Update multiple location extensions".  Remember to keep the column headers.  Also remember to check the box that says "My location extension information below includes a column for campaign names".
Here's an example of what an Adwords Location Extension looks like in the wild:
How to create Sitelinks within Adwords Editor
It's really easy to do.  Just click the Sitelinks tab and click "Add Sitelink".  I recommend you prioritize your sitelinks first from most important to least important.  Put your most important Sitelink in the first position.
Sitelink tips, suggestions and FYI
Sitelinks cost the same as a regular ad click.
If you're not sure what to add as a sitelink, look at your website navigation for more ideas.
Sitelinks make your ad stand out compared to other ads so it can increase your CTR
Consider experimenting with Sitelinks like [Sitelink 1] [Sitelink 2] ... notice the brackets?
If you are sending traffic to a landing page, you might not want Sitelinks that direct traffic to your site.
How to add these extensions within the Adwords Interface
You can add Location Extensions and Sitelinks within the Adwords interface.  You can also add more extensions.
Build PPC Campaigns Faster With
PPC Campaign Generator
Build PPC campaigns in 5 simple steps!
Simple enough for beginners, powerful enough for advanced users
Training videos and support
FREE stand-alone version of my Keyword Grouper software with purchase (Limited-time!)