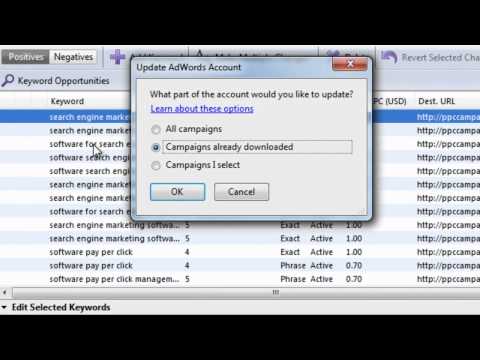 What you will learn:
Tree View
The drop-down account list allows you to quickly select and open accounts to work on.  The yellow area shows the number of campaigns downloaded.  If you downloaded all of your campaigns, this yellow area won't appear.  Within the account are campaigns.  Campaigns can be expanded to view the adgroups within them.
You can drag items into the tree view.  For example, you can drag an adgroup from one campaign and move it to another campaign.  Or, you can select keywords and drag them into another adgroup.
Tool Bar
The tool bar has several buttons.
The first is the "Get Recent Changes."  You can get basic changes or you can get changes and include the first-page bid for keywords which takes a little bit more time.  Whenever you open Adwords Editor, it's a good idea to "Get Recent Changes" before you start making changes in Adwords Editor.
The "Check Changes" button evaluates the pending changes before you upload them to your Adwords account to see if there might be any posting problems.  To be honest, this button and feature is of little value since most error messages appear before you upload them.  And should an error occur, you will see the error after posting so as somebody learning Adwords, don't concern yourself with this button.  I never use it.
The "Post Changes" button is a very important button.  This is the button you use to post changes you've made in Adwords Editor to your live Adwords account.
Clicking the "View Statistics" button allows you to download account performance just as you would see it while logged into your Adwords account online.  You can select any date range you want to look at.
Data View and Tab Tool Bar
The Tab Tool Bar lets you decide what you want to see in the "Data View" area.  I call the "Data View" area the grid area because it's essentially a table grid of your account data.  What you see within the Data View will depend on what you have selected in the Tree View.  For example, if you have your entire account selected, you will see all campaigns within the Campaigns tab.  If you have one campaign selected in your tree view, the campaign you have selected will display in the Data View area.
Summary
Everything you do in Adwords Editor revolves around using these controls.  The more you use Adwords Editor, the more comfortable you will get with using these controls to navigate within your account.  Understanding what the buttons do when you click them is the most important take-away from this tutorial.
Build PPC Campaigns Faster With
PPC Campaign Generator
Build PPC campaigns in 5 simple steps!
Simple enough for beginners, powerful enough for advanced users
Training videos and support
FREE stand-alone version of my Keyword Grouper software with purchase (Limited-time!)