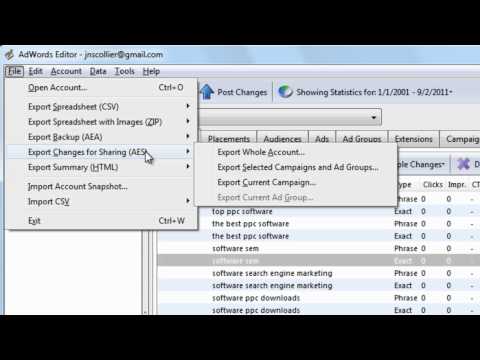 In this video I, want to talk about how to import and export files from Edwards editor.
What you will learn:
How to export files from Adwords Editor
How to import files into Adwords Editor
How to export files from Adwords Editor
You'll first notice that you have several export options.
You can export files with the following filetypes:
.CSV - Comma Separated Values
.ZIP format with images
.AEA - Adwords Editor Archive
.AES - Adwords Editor Share
.HTML - Hypertext Markup Language
Aside from choosing the filetype you want to export, you can also choose what you want to export.  There are several options depending where you are at within Adwords Editor navigation tree on the left-most side:
Export Whole Account
Export Selected Campaigns and Adgroups
Export Current Campaign
Export Current Ad Group
Export Current View
.CSV
I always export as a .CSV format.  .CSV format can be easily imported from file or by copying and pasting text.  Another big reason is that you can open the files in Excel easily if needed.  My recommendation to you is to always export is a .CSV.
.ZIP format with images
Exporting as .ZIP format with images is the same thing as exporting as .CSV except the .CSV file is zipped and any images you might have in your account will export into a folder called images (seen below).
.AEA
Adwords Editor Archive files are good for backing up files without taking up a lot of space on your computer's hard drive.  .AES files export in very small files versus exporting as a .CSV which exports in much larger file sizes.
.AES
.AES file types allow Adwords users to share proposed changes to an account.  Other users can make changes, add comments and post your changes if they wish.  This export type is not meant for backing up your account.
.HTML
.HTML format is also extremely useful for communicating the complexities of Adwords to people that know very little about Adwords.  When you export in this file format, non-users of Adwords can easily see the campaigns, the groups within those campaigns, the keywords being bid on, the bids, the match types and the ads.
Something I've found extremely difficult in the past is explaining to people WHY I wrote the ads the way I did.  If you just look at the ads without context to the keywords within the groups, it can look a little off.  With the .HTML Adwords Editor export, stakeholders can see WHY you wrote the ads in the way you did and how those ads related to the keywords.
Sometimes you don't want to give the client or a legal team your entire strategy; you just want to give them the keywords or the ads to review.  A very easy way to do this is to create another instance of the campaign with Adwords Editor.  Then delete the stuff you DON'T want to show the client or legal team and export as HTML.  This way, they only see what you want them to see.
It's important to know that you can't import .HTML files into Adwords Editor; you can only export them.
How to import files into Adwords Editor
To import files into Adwords Editor, you have three options:
Import Account Snapshot - only accepts .AEA or .AES file formats to import
Import .CSV from file - lets you browse to the .CSV file location on your computer to select and import
Import .CSV from Copy/Paste - lets your copy and paste .CSV or .TAB data (with headers) to import
For further advice from Google, visit Adwords Editor Help to learn how to Import and Export files into Adwords Editor.
Build PPC Campaigns Faster With
PPC Campaign Generator
Build PPC campaigns in 5 simple steps!
Simple enough for beginners, powerful enough for advanced users
Training videos and support
FREE stand-alone version of my Keyword Grouper software with purchase (Limited-time!)