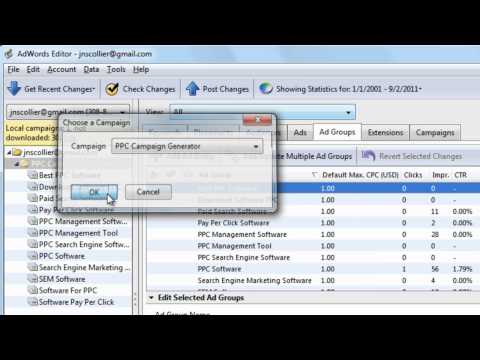 What you will learn:
Learn what menu features you need to know and which ones you don't
Edit Menu
Don't get into a habit of using the Edit menu to make changes within your account.  Instead, get into a habit of using the keyboard shortcuts.  These keyboard shortcuts within Adwords Editor are absolutely essential to learn and know so take time to learn them now!
Cut - CTRL + X
Copy - CTRL + C
Paste - CTRL + V
Delete - Delete Key
Select All - CTRL + A
Find/Replace - CTRL + H
Range Select - Click item, scroll down, Hold SHIFT key, click another item to select blocks of rows within data view
Individual Select - Hold CTRL then click on items you want to select within data view
Account Menu
You can get full account changes, get recent changes, check changes, post your account, and view activity manager.  There's no reason to use this menu.  It's much faster to select the buttons on the tool bar directly below the account menu.
Data Menu
Allows you to add, edit, update and delete campaigns, adgroups, keywords, extensions, ads, placements and audiences.  Again, I don't recommend you get into a habit of using this drop-down data menu to make changes within your account because you have quicker access to all these features within the interface of Adwords Editor.
The only thing I recommend you try out is the Sort feature.  For example, let's say you're looking at keywords from the campaign level that has some adgroups that are paused and some keywords that are paused.  You can sort first by adgroup status, then by keyword status to sort all the paused keywords to the bottom which is something I have found to be useful when I don't want to do an Advanced Search for Active-only adgroups and keywords.
Tools Menu
Find Duplicate Keywords Tool - This tool helps you remove duplicate keywords from within adgroups, from entire campaigns or from your entire account.  It has many options which is why I made an entire video dedicated to explaining this useful tool.
Keyword Grouper Tool - A quick-and-easy (but lazy) way to group your keywords.  It groups keywords into very granular groups.  You can input words to ignore while generating common terms.  I'll teach you how to use this tool to your advantage in my keyword grouper tutorial.
Keyword Opportunities Tool - Connects to Google's keyword tool API and pulls in keywords you can drag and drop into adgroups.  You can also export keywords to .CSV to analyze.  I made a separate tutorial on how to use the Keyword Opportunities tool as well.
Help Menu
Has links to Adwords Editor Help, Adwords Help, Adwords Editor's Getting Started Guide, Release Notes, Send Feedback, and Terms of Use.  You can also click the About Adwords Editor item to see what version of Adwords Editor you are using... or just look in the top-right for that info :)
Build PPC Campaigns Faster With
PPC Campaign Generator
Build PPC campaigns in 5 simple steps!
Simple enough for beginners, powerful enough for advanced users
Training videos and support
FREE stand-alone version of my Keyword Grouper software with purchase (Limited-time!)