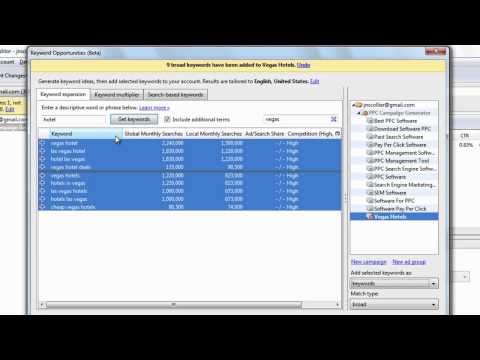 This brief tutorial explains how to use the Keyword Opportunities tool that's built into Adwords Editor.
What you will learn:
How to use the keyword expansion tool
How to use the keyword multiplier
How to NOT use the Search-based Keyword Tool
How to use the Keyword Expansion Tool
This keyword expansion tab is a quick way to get keyword ideas from Google within Adwords Editor.
Pros
gives you the ability to export to .CSV
columns show competition, local monthly searches, global monthly searches, etc.
gives you more keywords than Google Adwords Keyword tool
has a second search filter you can use to refine the results
Cons
slower than the Google Adwords Keyword tool
This tool works very similarly to the Adwords keyword tool.
How to use the Keyword Multiplier Tool
The keyword multiplier tool is supposed to be some kind of awesome keyword generator tool that you can use to combine lists of words together to create larger lists of keywords.  Unfortunately, this keyword tool has some significant draw-backs.
The tool excludes generated keywords that have low search volume
The tool doesn't allow you to easily swap keywords around from left-to-right and right-to-left
You can't save keyword lists for later use
PPC Keyword Generator created by OverZone Software is MUCH better for combining and generating lists of keywords together.  I've used this tool for years.  In fact, I love it so much that I incorporated similar functionality with PPC Campaign Generator... with even more useful features.
How to NOT use the Search-based Keyword Tool
The Search-based keyword tool has been discontinued.  It was a very useful tool in my opinion.  It would allow you to see relevant keywords that weren't in your account.  This saved a lot of time because I usually use Excel's VLOOKUP function to find search queries (now called search terms reports) that I am missing within my current account.
For more information about the Keyword Opportunities tool, visit Google's Keyword Opportunities page for more info.
Build PPC Campaigns Faster With
PPC Campaign Generator
Build PPC campaigns in 5 simple steps!
Simple enough for beginners, powerful enough for advanced users
Training videos and support
FREE stand-alone version of my Keyword Grouper software with purchase (Limited-time!)