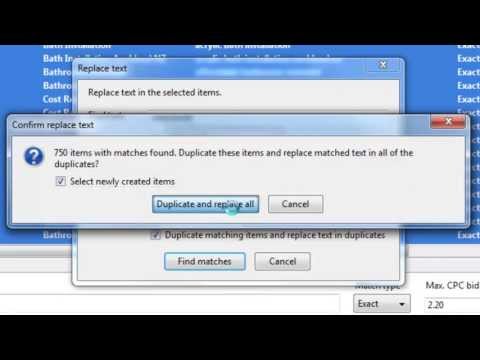 In the above video, you will learn how to create keyword match types in Adwords Editor without copying and pasting data out of Adwords Editor and into Excel.
Often times, when Adwords Editor users need to create different instances of keyword match types, they use Excel to perform keyword match type additions in bulk.  There is a way to do it completely in Adwords Editor without using Excel.  This is achieved by using Adwords Editor's find and replace feature (CTRL + H).
What you do is use the what's known as Formula Words.
What is a formula word?  That sounds complex!
Fear not.  Think of a formula word as a variable you can use for find and replace actions in Adwords Editor.
Here are examples of the formula words you can use in Adwords Editor:
[account] - Account name
[campaign] - Campaign name
[adgroup] - Ad group name
[keyword] - Keyword text
[headline] - Ad headline
[description1] - Ad description line 1
[description2] - Ad description line 2
[displayUrl] - Display URL text
[destinationUrl] - Destination URL text
[negativeKeywordSite] - Negative keyword or site
[field] - Any field that's editable on the selected tab
One example of how to leverage formula words is to follow this simple formula words tutorial:
Let's say your ad group names are named in a way that allow you to insert the name of the ad group into the headline


Press CTRL + H to bring up the find and replace feature in Adwords Editor.  Find the placeholder abc123 and replace it with [adgroup] (one of the formula words variables).  Make sure the drop-down shows Headline.

You will notice all your ad headlines change to the ad group name!

That's the power and usefulness of formula words.
In the video above, the take-away concept is, I am finding all keywords and replacing them with themselves.  But in order for formula words to work, I have to add something unique because it can't change it to itself.  That's why I add the exclamation point character.  It doesn't matter what character you use though.
The reason I opt to duplicate all values found is because for the purposes of this video, I am showing you how to use Adwords Editor's find and replace feature to create new instances of different keyword match types.  Therefore, we want to first duplicate an existing match type, then after it creates new instances, we want Adwords Editor to select those new instances so we can change the match type via the drop-down box.  At the same time, you will probably also want to change the keyword max CPC bids.
Build PPC Campaigns Faster With
PPC Campaign Generator
Build PPC campaigns in 5 simple steps!
Simple enough for beginners, powerful enough for advanced users
Training videos and support
FREE stand-alone version of my Keyword Grouper software with purchase (Limited-time!)