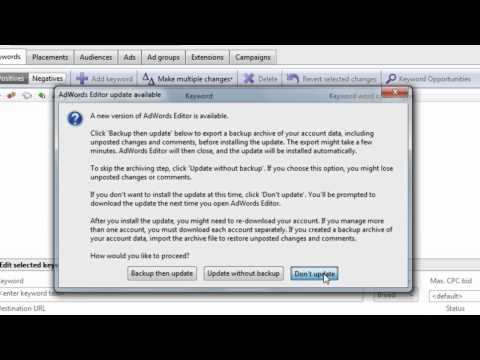 UPDATE: Adwords Editor Version 9.7.1 (the best version ever created) has been retired by Google. 12/4/2012
I recently updated from Adwords Editor version 9.7.1 to Adwords Editor 9.8.1 .
After using Adwords Editor version 9.8.1, I noticed a SIGNIFICANT difference in performance and usability.  Adwords Editor 9.8.1 is VERY SLOW, not a stable, and reliable.  Many users are calling it a 'nightmare to work with.'
I too have voiced my concerns about Adwords Editor 9.8.1 (if you have time, I encourage you to do the same here!)
I wanted to know how to downgrade to Adwords Editor 9.7.1 again.  After searching around for my beloved 9.7.1 version, I soon realized that Google doesn't have a page where you can download prior versions of Adwords Editor.  Instead, I was finding questionable download and torrent sites in the SERPs.
You would think Google would have a page of Adwords Editor versions for people to download in case they don't like the newest version (ex: 9.8.1)!  Instead, to downgrade, they send you on a quest to find prior versions.
If you want to download Adwords Editor version 9.7.1 directly from the source - Google - you should be able to download version 9.7.1 from this link.  Make sure you completely remove/uninstall Adwords Editor from your system before downloading:
Download Adwords Editor 9.7.1 directly from Google below:
http://dl.google.com/adwords_editor/9.7.1/win32/en-US/adwords-editor-en-US.msi
What do you lose if you downgrade from 9.8.1 to 9.7.1?
Adwords Editor 9.7.1
Adwords Editor 9.8.1
Pros

Fast
Efficient
Stable
Not Jumpy
Reliable

More Ad Formats
Separate tab for location targeting
Dynamic insertion tags (which I honest
don't quite understand yet)

Cons

Lacks the new features
Is no longer supported

Much Slower than 9.7.1
Jumpy (Fields Move Around)
Buggy
Unstable
Advanced Search takes longer
After multiple changes, form disappears
for a brief second (have to click program)
Select All selects all for a brief moment
then due to the slow load time of the program
deselects all causing you to select all twice
Bottom of Screen cut off for many users
Memory Intensive (crashes more)
Build PPC Campaigns Faster With
PPC Campaign Generator
Build PPC campaigns in 5 simple steps!
Simple enough for beginners, powerful enough for advanced users
Training videos and support
FREE stand-alone version of my Keyword Grouper software with purchase (Limited-time!)