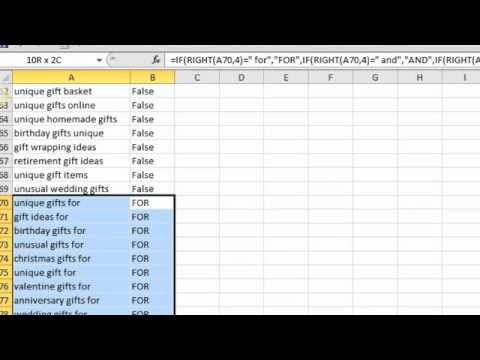 Group Keywords Using a Keyword Density Macro
I converted this Excel VBA code I found into an Excel keyword density tool.  This Excel tool can analyze the density of a keyword list and output the most common frequencies for 1 word, 2 word and 3 word phrases.
Let me give you an example of when to use this.
Let's say you checked out a search query report or exported a huge list of keywords from Google Analytics (append &limit=50000 in GA, export as CSV, not CSV for Excel).  You want to find the best way to group these keywords into a common theme.  You take all those keywords, put them into column A of this Excel keyword grouper, remove duplicates, then hit the "Find Density" button.
Magically, the keyword frequency and count appears!  Thanks to this Excel macro, you can now group keywords into common themes much easier.
What you can do is take these keywords, import them into one adgroup in Adwords Editor and begin grouping the keywords by the highest frequencies.  This is WAY easier than staring at your huge keyword list and trying to find common themes manually.  It tells you what keyword frequencies are most common so you can focus on keyword grouping.
Download the Keyword Density Grouper for Excel.
If you see a "Security Warning" from Excel to enable content, just allow it.  Nothing sneaky or tricky going on here.  There are no weird viruses to be worried about, I assure you.  Hit the Enable Content button.
Note: if you're having problems opening the Excel file, open Excel first, then click the download link above.
Build PPC Campaigns Faster With
PPC Campaign Generator
Build PPC campaigns in 5 simple steps!
Simple enough for beginners, powerful enough for advanced users
Training videos and support
FREE stand-alone version of my Keyword Grouper software with purchase (Limited-time!)