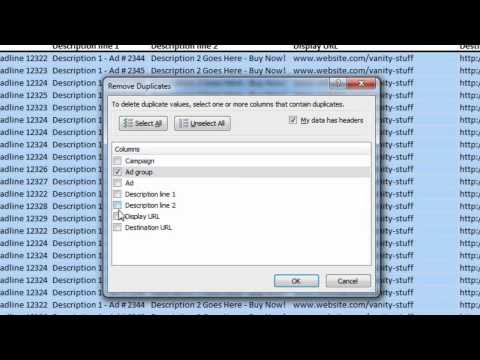 In this video, I show how to identify unique ad destination URLs within each ad group.
This is useful when you want to remove all keyword-level destination URLs and want ad groups to send traffic to one specific URL.
Using Excel and pivot tables, you simply follow this process:
Download your ads report from Google or Bing
Remove all unnecessary columns (the only columns you need are Ad Group and Destination URL really)
Remove duplicates so only unique records exist
Insert into a pivot table
Select Ad Group, Destination URL, then drag destination URL to 'Values' area to get a count
Sort by 'More sort options' and select descending based on 'Count of Destination URL'
Ad groups with more than one ad-level destination URL will show up at the top.
You've just identified which ad groups contain ads that send traffic to multiple URLs.
Build PPC Campaigns Faster With
PPC Campaign Generator
Build PPC campaigns in 5 simple steps!
Simple enough for beginners, powerful enough for advanced users
Training videos and support
FREE stand-alone version of my Keyword Grouper software with purchase (Limited-time!)