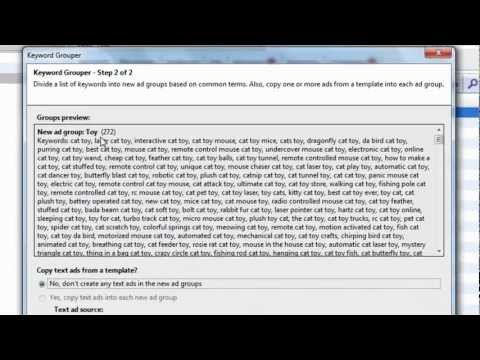 ---
In this post, I'll share with you all the online keyword grouping tools I've come across.
Wordstream Keyword Grouper
The Wordstream online keyword grouping tool is pretty cool.  Wordstream uses a proprietary keyword grouping algorithm that performs advanced linguistic, semantic and statistical analysis on your keyword list in order to find the most relevant and potentially profitable keyword niches.
You simply take a keyword list, paste them into the text area and hit "Get Profitable Keyword Groupings."  The online tool evaluates your keyword list and outputs suggested keyword groupings.  You can have the results sent to your inbox.
The downside is that this tool is limited.
You get 10 free uses up-front, then you can use the Keyword Grouper once per day going forward, for free.
Second, the free version can only evaluate up to 1,000 keywords.
Third, it doesn't group every keyword, just the ones it thinks matters (higher search volume).
Fourth, the keyword groupings they send you via email are not exactly in a user-friendly format.  Each keyword grouping is separated into its own CSV file.  If you want to convert this to an Adwords campaign, you will have some work to do (especially if there are a lot of groups).
If you want unlimited access, you can buy their Keyword Research Suite.  Their Keyword Research Suite includes all types of various keyword tools.  Plans start at $329 a year.
Keyword Country
Keyword Country has an online keyword grouper.  This tool evaluates up to 1000 keywords at a time.  Unlike Wordtracker's tool, this tool actually groups all keywords.  Second, there is no limit or restriction on this tool at the time of this writing.  Third, you can simply export your keyword groupings in one convenient CSV file right without opting-in and checking your email.
What's most impressive about Keyword Country's online keyword grouper tool is that it groups keywords remarkably well.  The algorithm behind the application was obviously well thought-out and they did a great job.
My only suggestion/comment would be to allow CSV export in different formats.  For example, to have a format that exports for use in Adwords Editor.  As it stands now, the export has all the keywords and groups in a single column.
Marketing Tools Expert
Another online keyword grouping tool I ran across was from Marketing Tools Expert.  This tool was built specifically for Adwords.  According to the author, it's similar to the Google Adwords Keyword Grouper Tool with a few modifications.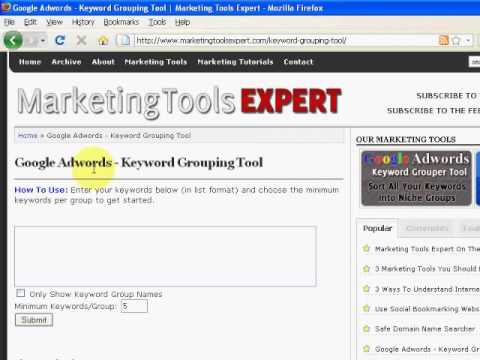 You enter your keywords in the text area, your keywords get grouped, you enter a campaign name and your campaign is generated in comma-separated value format.  You can copy/paste this output into Adwords Editor and your campaign is created.
A great feature about the tool is that it allows you to define the minimum keyword threshold for a keyword group to be created.
The downside to using this tool groups the same keyword within multiple adgroups.  This is not too much of a big deal using Adwords Editor's Remove Duplicates tool.  If you use the tool, just be cautious of this fact.
Keyword Groupie
Spyfu has come up with a keyword grouping tool called Keyword Groupie.  I figured since I was hard-up on finding many online keyword grouping tools, I would mention Keyword Groupie.  It's somewhat of a keyword grouper but it finds keyword based on a domain you input.
The concept is simple.  You enter a domain and Keyword Groupie comes back with organic keywords, paid keywords, the organic keyword universe, and the paid organic keyword universe.  It's not accurate but it is worth taking a look at.
Adgroup Generator
Adgroup Generator is good for grouping a small list of keywords.  The online tool makes an adgroup for each keyword.  You define the campaign name, the keywords to be processed, and the match types.  When you hit the "Process" button, scroll down a bit and your campaign code will be generated within the text area.
So, the concept here is that you are grouping each keyword into its own adgroup.  This allows you to isolate each keyword to easily identify the important keywords when looking at your campaigns from the adgroup level.
If you pursue this type of campaign structure, I would suggest you focus on the high-volume keywords and start out with phrase and exact match types.  To make this campaign structure worth-while, you will then need to write highly targeted and relevant ads for each adgroup.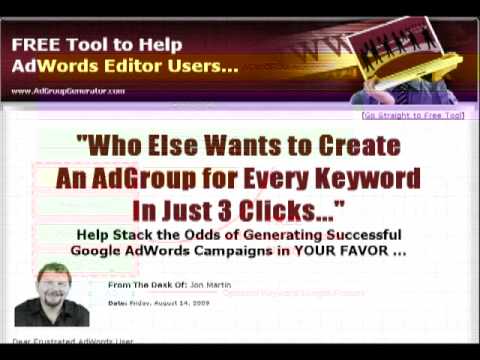 Summary
So that's it.  Those are the online keyword grouping tools that I'm aware of.  If you know of any online tools that group keywords, comment and let me know so I can add them to the list!
Build PPC Campaigns Faster With
PPC Campaign Generator
Build PPC campaigns in 5 simple steps!
Simple enough for beginners, powerful enough for advanced users
Training videos and support
FREE stand-alone version of my Keyword Grouper software with purchase (Limited-time!)